How to Build a B2B Marketing Strategy From the Ground Up
---
If you're scaling your business, you should consider developing an overt and well-defined strategy. Unfortunately, it's hard to link marketing efforts to sales or business outcomes. B2B marketers face issues such as generating leads and traffic and proving the ROI for their marketing activities. This means they aren't sure if they're using a functional strategy.
You need a B2B marketing strategy that projects the right brand and creates a good first impression for your prospects. Read on to learn more about developing an effective marketing strategy for your brand from the ground up.
What's A B2B Marketing Strategy?
B2B stands for business to business. In this case, a business works directly with another business. B2B marketing refers to selling and promoting goods and services by one business to other organizations or businesses. You need solid B2B strategies when selling products and services to other businesses. A B2B marketing strategy is essential when starting a new business or reimagining and rebranding it for growth.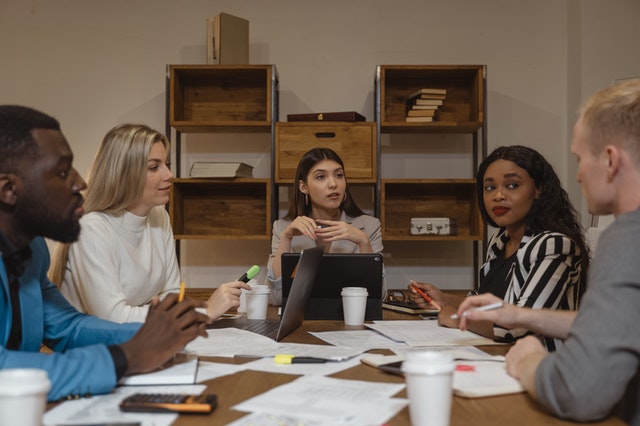 Marketing teams can educate, acquire, and retain clients when they have an effective strategy in place. Although developing this marketing strategy is good for your company or business, you'll only realize your goals when you realistically follow and stick by them.
How to Create A B2B Marketing Strategy
If you want a marketing strategy that will deliver, you need to think about your clients when developing it. You also need to consider your current position and the resources that you have set aside for marketing. As a leading B2B marketing agency, we can develop a personalized marketing strategy for your business. Here's a quick guide on creating the plan.
Know Your Market
Understanding your market can go a long way in enabling you to set reasonable goals. You can do so by studying your competitors and your value proposition. You should not duplicate your competitor's strategies. Instead, you should improve your understanding of the marketing strategies connecting with your clients in the industry. This can go a long way in enhancing the effectiveness of your B2B marketing strategy.
What Are You Offering?
You should study your products or services and identify their strengths and shortcomings. This will improve your brand message's comprehension and enable you to broadcast it. Identify and clarify key messages based on your brand priorities and your clients' needs. Develop your strategies, align the messages with your target audiences, and use different online and offline platforms to distribute them.
Doing all these by yourself can be a hard nut to crack, and that's why you should let in professionals to help. You can leverage our expertise and knowledge to help you identify all your pain points and devise practical ways to build a powerful marketing strategy.
Include an In-Depth Profile of Your Customers
Your products or services must meet your customers' specific needs. Creating a buyer persona will go a long way in enabling you to achieve this goal. You should identify the biggest challenges that they face and the publications and community platforms that interest them. Establish how they're different and similar to the ones your competitors' target. Some products and services fail on launch because the investors skipped this essential step when developing their strategy.
Set Goals
What do you want your B2B marketing plan to achieve? It's advisable to work closely with the sales team when setting your goals. Your goals should also be relatively easy to measure to make it easy for you to gauge performance. You can also set a timeline for achieving these goals, such as quarterly or yearly. Make sure your goal is SMART: Specific, Measurable, Actionable, Realistic, and Timed.
Consider Your Key Performance Indicators (KPIs)
How will you measure your performance? Which metrics will you use? These are important questions that you should answer when developing a strategy. You should consider your goals and objectives when identifying the KPIs to use for your business or brand.
For instance, if you're launching a B2B website, you can use the conversion rate as your KPI. As a reliable B2B marketing agency, we'll include relevant KPIs to make it easy for you to know your business's performance and decide the necessary steps to take.
Why You Should Create a B2B Marketing Strategy for Your Business
If you're a B2B marketer, startup founder, or a marketing executive, you should create a B2B marketing strategy. When you create this plan for your business or brand:
It Becomes Easy to Assess New Opportunities
The world is changing every day. New technologies are creating new opportunities that every business should exploit. You can use your B2B marketing plan to identify the method that you should use to assess the new opportunities and incorporate them into your business.
Chances of Launching Failed Products Reduce
Investors lose a lot of money when their products fail. Lack of a clear marketing strategy is a common contributor to this problem. A B2B marketing strategy can enable you to plan every detail on time. Chances of realizing a successful product launch increase when you have a plan. Creating a solid strategy can allow you to avoid the costs incurred by launching failed products.
You Can Establish a Growth Path Easily
If you have a marketing plan for your brand, company, or business, you only need to keep revising and tweaking it regularly. You can incorporate your long-term goals into the plan, thereby enabling you to easily create a growth strategy. Those without a B2B marketing strategy may be unable to expand their businesses without compromising their customer care services and even the quality of their goods or services.
Marketing Time and Costs Reduce
Marketing is a powerful tool that enables businesses and companies to promote their new or existing product or services. Unfortunately, some businesses have to set aside a huge budget for launching a successful campaign. Sometimes the campaigns fail – mainly because they don't have a functional B2B marketing plan in place. Your marketing plan can enable you to include relevant content in your marketing strategy to reach even more clients.
Enables You to Maintain Close Contact With Your Clients
Staying in touch with your clients can boost repeat sales and referrals. A B2B marketing strategy will allow you to use email and social media platforms to reach your clients. Such regular communication with your customers cannot be achieved without B2B marketing.
Improves Customer Experience
When creating a marketing strategy, you will need to identify your target customers in advance. Once you know and understand them, you can interact with them accordingly. You can create a seamless and impeccable customer experience. This is not the case for companies that don' not know their clients well because they lack a B2B marketing plan.
B2B Marketing Services by Experts
It's essential to prepare your B2B marketing strategy before launching a successful product or service. It would help if you improved this plan as you grow. You can use this guide when building your marketing plan.
You may turn to our B2B marketing services when you want complete answers to your specific questions. We're a reliable B2B marketing agency that can assist you in growing your business. Contact us today for practical strategies to boost your business expansion.