August 28, 2020
The COVID-19 pandemic has brought on a significant amount of stress and uncertainty for business owners. While countless businesses have been forced to close their doors over the past several months, others have struggled to get by during such a challenging time. This has led many business owners to wonder how they should plan out their next steps.
As a B2B marketer, it's your job to help these businesses overcome the challenges of COVID-19 and strive towards success. Because the pandemic poses a unique set of challenges for B2B marketing companies, it's more important than ever to adapt your marketing strategy for these uncertain times. Here are some highly effective ways to leverage your B2B marketing strategy during the coronavirus pandemic and reach more customers.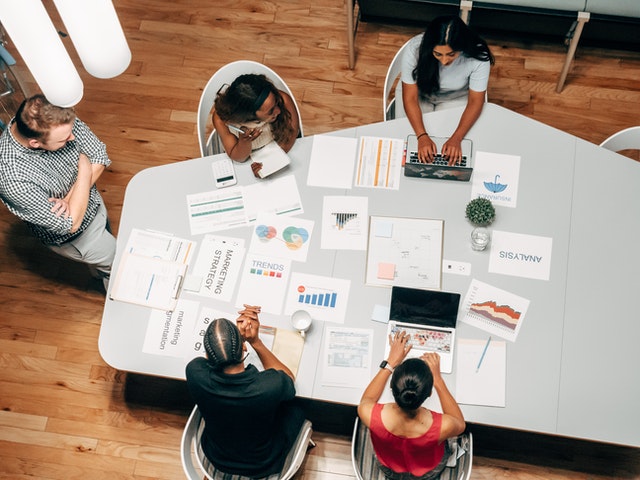 1. Connect With Your Customers
One of the most salient effects of pandemic is a society that seems more divided than ever. People crave connections with others, even if they can only form these connections remotely. That's why the first step towards developing a more effective marketing strategy is creating meaningful relationships with your customers.
Reach out to the businesses you work with and get a sense of what their current situation is. Ask them questions and listen to them closely to understand how they're coping with the pandemic. By stepping in and finding out what your customers need from you, you're already one step ahead of the competition.
2. Embrace Change
Even if you have a strong relationship with your customers, they'll notice if you shy away from the challenges that COVID-19 has presented over the past few months. Instead, take a proactive approach and acknowledge the difficulties that are affecting businesses all over the country. Not only will this put you in a better position to help your customers, but it'll also help you come across as a competent leader with a B2B marketing strategy that will improve others' lives.
3. Create Content Related to COVID-19
Embracing change is essential, but it's only the first step. Your next job is to produce B2B marketing content that lets customers know how you respond to the pandemic. Putting out content that describes how you're adapting to the COVID-19 crisis will show your customers that you're in control and have a plan for the future.
4. Leverage Social Media
In today's evolving digital world, using social media to your advantage is vital. Be sure to engage with your audience in a meaningful way by updating your B2B marketing strategy on social media. Post COVID-related content on platforms such as Facebook and Twitter, and make sure to let your customers know that you're there for them.
5. Provide Free Content
More people than ever are currently unemployed due to the coronavirus pandemic. With so many struggling to make ends meet, B2B marketing companies must acknowledge their struggles and cater to their needs. Consider making some of your software platforms or B2B marketing services available at no cost to financially insecure customers as they weather the pandemic. This wise move may help you gain more loyal customers that stay with you even after the pandemic is over.
6. Reassess Your Business's Values
A significant step towards adapting to change is taking a fresh look at your values and priorities. As a B2B marketing agency, you need to have a clear understanding of what your business stands for. By revisiting your company's roots, you'll form a stronger connection with your purpose, which is ultimately the foundation for an effective marketing strategy.
7. Organize Remote Events
The coronavirus has rendered in-person meetings obsolete. This is a difficult adjustment for everyone, but it's important to adapt to the situation by taking a more flexible approach. Switching to online events as part of your B2B marketing strategy gives you the ability to do business as usual while adhering to COVID-19 safety measures. Not only will you communicate the fact that you take the pandemic seriously, but you'll also have the chance to connect with other businesses safely and effectively.
8. Adjust Your Email Strategy
Email can be an invaluable tool during a pandemic. While you can reach a broad audience with email, it's important not to overdo it. Send out messages that are helpful to your customers, but make sure that you don't undermine your purpose by overloading your clients with information.
9. Optimize Work-From-Home Technology
Nearly a third of Americans have turned their homes into their offices because of COVID-19. As a B2B marketing company, it's crucial to help facilitate businesses' transition as they switch to a remote workplace. Be sure to provide your customers with B2B marketing services and other resources that they can utilize during this challenging time.
10. Focus On Your Existing Network
During times like these, it's vital to market to the people who are already a part of your network. By focusing your energy on maintaining existing customers instead of trying to win over new customers, you'll have a greater chance of building loyalty. Do what you can to keep these businesses interested in your company, whether you offer them valuable advice or provide them with information that helps them get through challenging times.
11. Remain Flexible
With new information about the coronavirus being released on a near-daily basis, no one is certain about the future. In a time of such great uncertainty, the best thing you can do for your business is to be open to new approaches and change course whenever necessary. Change is never easy, but the businesses that adapt first are usually the businesses that see the most success. Always give an objective look at your B2B marketing strategy and be prepared to go in a new direction if you notice that something isn't working out.
Bolstering Your B2B Marketing Strategy During a Pandemic
Equipping your B2B marketing company to succeed during COVID-19 is an attainable goal. All you need are the right tips and strategies to propel your business in the ideal direction. No matter what your goals are during this time, remember that being open to change and growth will help set your business apart from the rest of the crowd.
B2B marketing company
B2B marketing services