How To Adapt Your B2B Marketing Strategy for Uncertain Times
---
B2B companies are used to uncertainty. They plan for unforeseen circumstances and warehouse supplies and have buffer funds to keep them afloat during difficult times. What B2B companies are not used to is the sudden and widespread nature of a global pandemic. The pandemic has thrown our world into chaos, but it's also an opportunity to be more innovative and creative with how we do things.
The uncertainty of the situation means that B2B marketing companies need a flexible approach in order not only to survive these difficult times – they must continue evolving as well. Now, it is more important than ever for businesses to have a well-adapted marketing strategy. However, crafting such a strategy can be difficult in the best of circumstances, let alone during times of upheaval and change.
The outbreak of COVID-19 has been a wake-up call for B2B companies. It has forced them to rethink their operations and find new ways to succeed in an uncertain world. The best way to survive a pandemic is by being prepared. And the same goes for your business during an outbreak, whether it be coronavirus or anything else. In this article, we will provide you with tips and advice on how to adapt your B2B marketing strategy for uncertain times and find new ways to reach new customers, but let's just start with the basics first.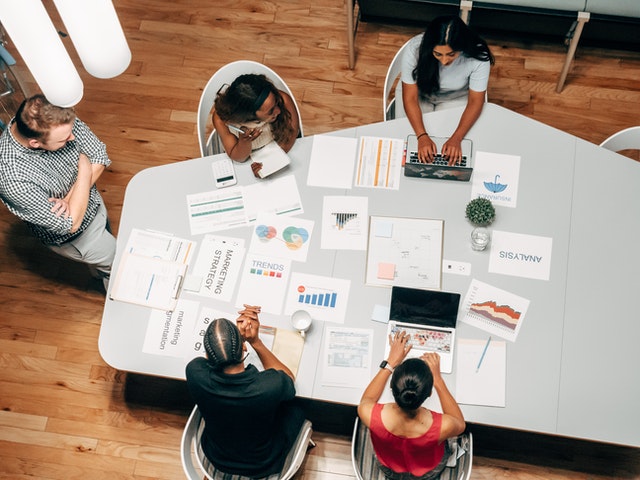 1. Keep your finger on the pulse of the market
In order to craft an effective marketing strategy, you need to have a good understanding of the current market conditions. This is especially true during times of uncertainty when markets can be volatile and change rapidly. Keeping tabs on industry news and trends will help you anticipate changes and adjust your marketing strategy accordingly.
2. Communicate with your audience and build connections
One of the first steps to creating a more effective marketing strategy is developing meaningful relationships with your customers. People are craving connections, even if they can only form these online friendships remotely; that's why it's important for businesses and marketers alike not just to focus on physical engagement but also to build authentic interactions through social media channels like email newsletter subscriptions or commenting on Facebook posts. Effective communication is essential for any successful marketing campaign. When uncertainty is high, it is even more important to keep your audience informed and up-to-date on your latest products, services, and offers. Use multiple channels of communication, including email, social media, and your website, to reach as many people as possible.
3. Be flexible and adaptable
In uncertain times, it is important to be flexible and adaptable in your approach to marketing. What works today might not work tomorrow, so you need to be prepared to make changes on the fly. Experiment with different tactics and strategies and see what produces the best results. Change is never easy, but the businesses that adapt first are usually the businesses that see the most success. Always give an objective look at your B2B marketing strategy and be prepared to go in a new direction if you notice that something isn't working out.
3. Keep your goals in mind and stay realistic
B2B companies are struggling more than ever to find footing in an uncertain market. It feels like we're lurching from one crisis to the next, with no end in sight. In such times, it's important to set realistic goals for your business. Trying to achieve too much can lead to frustration and burnout while setting your sights too low can leave you feeling unfulfilled. The key is to find a balance between the two. Keep your goals attainable but also challenging. Expansions and new initiatives may need to be put on hold, and it may be necessary to focus on core products and services. Additionally, it's important to review your pricing strategy and make sure that you're providing value for your customers. By taking a strategic approach to goal-setting, you can ensure that your business remains resilient in times of uncertainty. Remember, it's okay to reassess your goals as circumstances change. The most important thing is to keep moving forward, even when the future seems uncertain.
4. Focus on your strengths
When times are tough, it is important to focus on what you do best. This means promoting your unique selling points and highlighting the aspects of your business that make you stand out from the competition. Focusing on your strengths will help you weather the storm and come out ahead when things eventually return to normal.
5. Research your competition
B2B companies have long relied on research to understand their competitive landscape and make informed decisions about their strategies and products. In times of economic uncertainty, this research is more important than ever. By understanding the competitive landscape, B2B companies can make sure they are positioning themselves correctly in the market and taking advantage of opportunities that may arise. Additionally, research can help B2B companies identify potential threats and develop contingency plans to protect their businesses. Research their websites, social media profiles, and advertising campaigns to get an idea of what strategies are working for them (and which ones aren't). Use this information to improve your own campaigns.
7. Create a timeline
When do you want to achieve your marketing goals? To ensure that you are staying on track with your marketing campaigns and measuring their success, create a timeline for each of them. This will help keep everything organized so it can be tracked more easily!
By following the tips above, you can ensure that your marketing strategy is flexible and adaptable and that your campaigns are focused on achieving your desired results.
Create new opportunities
1. Thought leadership content
One strategy available to businesses during uncertain times is to focus on thought leadership content. This type of content can help position your business as an expert in your field and can attract new customers. This content should be engaging and creative, providing insights that can help businesses make the most of their opportunities.
Few ideas for thought leadership content that can help B2B businesses during uncertain times –
How to weather the storm: Advice for businesses facing uncertainty,
Making the most of opportunities in a challenging economy,
What businesses can learn from past economic downturns,
Creative ways to cut costs and improve efficiency,
How to adapt your business model for a changing market,
Tips for staying ahead of the competition in tough times,
Communicating with customers in an uncertain economy,
Building brand loyalty in challenging times, etc.
2. Leverage Social Media
In today's evolving digital world, using social media to your advantage is vital. Be sure to engage with your audience in a meaningful way by updating your B2B marketing strategy on social media. Social media is a great way to connect with customers and build relationships if you use it wisely. Avoid sales-y Posts. Now is not the time to be selling or pushing products. Instead, use social media to build relationships and show that you're a valuable resource. Post COVID-related content on platforms such as Facebook and Twitter, and make sure to let your customers know that you're there for them.
3. Pay attention to the data
Data is more important than ever during times of uncertainty. Use data to assess what is working and not working in your marketing strategy, leverage it for your marketing decisions and ensure you're making the most impactful choices. While taking advantage of data is essential, collecting and updating databases can take a lot of person-hours. That's why some companies hire for remote data entry jobs separately, to save time for their senior-level employees who only review the data and make conclusions based on it.
4. Provide Free Content/Discounts
During difficult times and economic slowdowns, the unemployment rate is higher than usual, with the motivation level of people constantly falling down. With so many struggling to make ends meet, B2B marketing companies must acknowledge their struggles and cater to their needs. Consider making some of your software platforms or B2B marketing services available at no cost to financially insecure customers as they weather the pandemic. Apart from this, consider running promotions or discounts to help encourage customers to buy from you during this challenging time. This wise move may help you gain more loyal customers that stay with you even after the pandemic is over.
5. Organize Remote Events
The coronavirus has rendered in-person meetings obsolete. This is a difficult adjustment for everyone, but it's important to adapt to the situation by taking a more flexible approach. Switching to online events as part of your B2B marketing strategy gives you the ability to do business as usual while adhering to COVID-19 safety measures. Not only will you communicate the fact that you take the pandemic seriously, but you'll also have the chance to connect with other businesses safely and effectively.
6. Adjust Your Email Strategy
Email can be an invaluable tool during a pandemic. While you can reach a broad audience with email, it's important not to overdo it. Send out messages that are helpful to your customers, but make sure that you don't undermine your purpose by overloading your clients with information. Try to be more personal. People want to do business with people, not businesses. In your marketing efforts, be sure to focus on personal connection. Use stories and first-person pronouns to make your message more relatable.
7. Optimize Work-From-Home Technology
The business world is changing, and as technology progresses, so do our working habits. The use of remote work-from-home positions has increased by nearly 30% since COVID -19 outbreak. As a B2B marketing company, it's crucial to help facilitate businesses' transition as they switch to a remote workplace. Be sure to provide your customers with B2B marketing services and other resources that they can utilize during this challenging time.
8. Focus On Your Existing Network
During times like these, it's vital to market to the people who are already a part of your network. By focusing your energy on maintaining existing customers instead of trying to win over new customers, you'll have a greater chance of building loyalty. Do what you can to keep these businesses interested in your company, whether you offer them valuable advice or provide them with information that helps them get through challenging times.
Even if you think that your marketing plans are going in the right direction, you shouldn't be blindsided by it. There are a few key things you can do to gauge the effectiveness of your current marketing strategy. First, track the results of your campaigns and measure how many leads they generate. Also, survey your customers and ask them how they heard about your company and what they think of your products or services. Finally, keep an eye on your competitors and see how they are adapting their marketing strategies in response to the current market conditions. If you find that your current strategy is no longer working, be prepared to make changes.
By following these tips, you can develop a well-rounded marketing plan that helps your business succeed. However, keep in mind that a successful marketing strategy requires ongoing effort and assessment. No matter what your goals are during this time, remember that being open to change and growth will help set your business apart from the rest of the crowd. Be prepared to adjust your plans as needed in order to achieve the best results. If you are struggling to adapt your marketing strategy for uncertain times, it may be time to seek professional help. A marketing consultant can provide you with expert advice and guidance on how to navigate the current market conditions.