SeeResponse Named as Top Advertising & Marketing Agency for 2019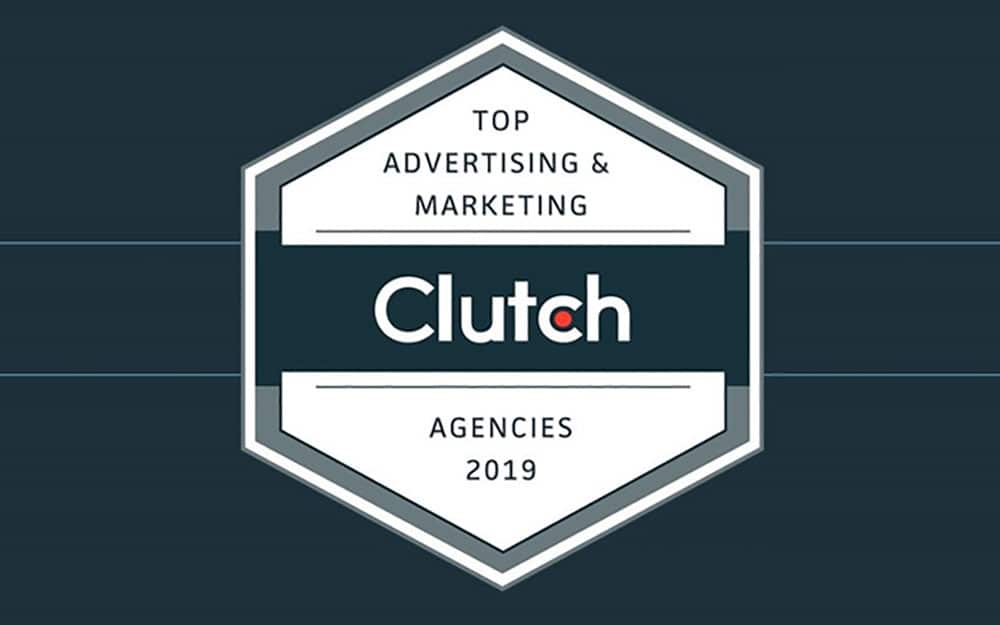 ---
SeeResponse is excited to announce that Clutch has ranked us as one of the top advertising and marketing agencies in India.
SeeResponse is a full-service B2B marketing agency that reimagines the way growth marketing and lead generation strategies are built and executed upon for software and tech businesses. SeeResponse offers a range of marketing services through its team of marketing and demand generation experts.
"These Indian agencies are stand-out for their strong, consistent work in the digital marketing space, creating meaningful traction for their clients," explained Jack O'Connor, Senior Business Analyst at Clutch. "I encourage buyers to take a deep-dive into their work, reviews, and inspect how they deliver projects for their clients."
Clutch is a B2B ratings and reviews firm. They rank companies based on a number of criteria, including marketing efforts, accolades, and long-form client reviews. Every month, based on the agencies' past and current clientele, market presence, thought leadership, and client satisfaction, Clutch evaluates the firms across various research segments and locations and determines the top performing companies. We're honored to be selected through this process.
You can see all transcripts of all of our reviews, with an average of 4.9 stars, on our Clutch profile page. Here's a preview of one of our client reviews.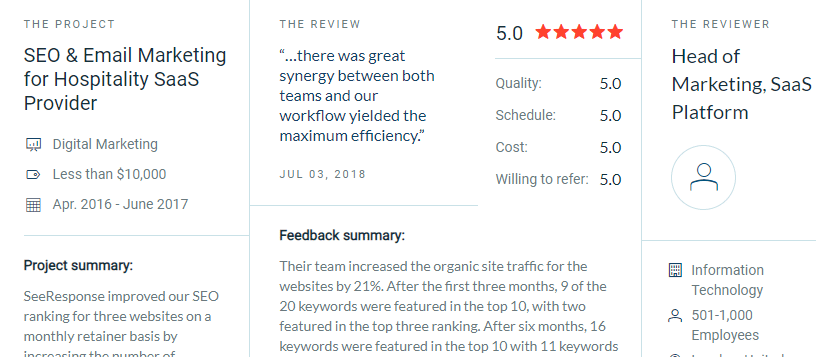 We are also excited to share that Clutch also has ranked us as one of the top 20 video production companies in India.
"We're thrilled to earn this recognition from Clutch. All of us at SeeResponse are grateful to all of our clients, partners and employees for the growth we have had, and are excited to continue growing in the future," said Mukesh K. Singhmar, Chief Thinking Partner and CEO at SeeResponse.
A designation as 'Top Advertising & Marketing Agency' is a testament to our people-first culture, where each day the most talented people come to work to provide our clients with sustainable marketing and growth solutions.
ABOUT CLUTCH
Clutch is a B2B ratings and reviews firm dedicated to facilitating business to business relationships by analyzing companies in many service offerings. Company analysis consists of a list of client testimonials that are through interviews with Clutch analysts. Additionally, each profile is scored using a unique scoring methodology that assesses firms on factors such as clientele, market presence, and industry recognition. Through this comprehensive analysis, Clutch is able to identify firms that deliver from firms that do not. More than 100,000 buyers use Clutch every month to find agencies, business services, software, and consultants.
ABOUT SEERESPONSE
SeeResponse is a full-service b2b marketing and email marketing agency. The company helps its clients increase brand awareness and drive qualified leads. SeeResponse's expertise spans Email Marketing, SEO, Saas Marketing, Paid Search, Paid Social, Marketing Automation, Web Designing & Development, CRM, and Creative Services – supported by highly talented B2B technology marketing teams. The company's key focus is to execute upon top marketing and demand generation channels for the B2B software, internet, and the technology consulting businesses.